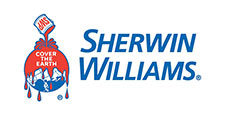 For 150 years and counting, Sherwin-Williams has been one of the industry's leaders in paints and wallpaper. Their exterior paints are highly durable, high-quality coatings that are designed for excellent performance, no matter what the weather conditions are that they have to face. Their interior paints provide long-lasting coverage and superior durability. All of it comes with Sherwin-Williams' trademark range of colours and styles, providing a wide range of options for any design plan.
At Premier Painters, we're proud to offer a wide range of Sherwin-Williams interior and exterior paints and primers in all of our work. We work with nothing but the highest quality paints, so you know that your new paint job will stay looking as new and as stylish as the day it was applied for years to come.
Sherwin-Williams offers a variety of different collections of colors to chose from.  Their "Color Through the Decades" collection celebrates 150 years of quality paints, with curated color collections designed to evoke existing pallets and historical color collections.  Their "HGTV Home" collection is brought to you in partnership with the design experts at HGTV, creating exclusive color collections that will provide beautiful color transitions throughout your home.  Their "Lifestyle Collection" offers unique color palettes designed for various different moods and themes, from Blissful Retreat to Latin Zest and everything in between.  No matter what you're looking for, there's a Sherwin-Williams color palette that will meet your needs.
With over 1,500 different paint colors, Sherwin-Williams has the perfect color for you, and Premier Painters has the perfect service.  Contact us today to see what we can do for you!